Jonathan, Mark, Saraki Condemn Kaduna Catholic Church Blast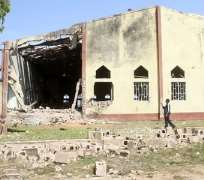 SAN FRANCISCO, October 28, (THEWILL) - President Goodluck Ebele Jonathan has condemned Sunday's suicide bomb attack which targeted St. Rita's Catholic Church in Kaduna.
The President, who was extremely saddened by the explosion, described it as "barbaric, cruel and uncalled for," A Presidency statement Sunday said.
President Jonathan noted that the apparent objective of the criminal and unpatriotic elements and forces behind the attack is to set back the progress the Administration has made in the fight against terrorism in the country. "It is obvious that these people do not mean well for Nigeria and its unity and development," he said.
The President however, expressed confidence that the war against terrorism would become more unrelenting as the nation would never give in to the forces of terror and retardation. He added that the persistence of messengers of evil will not prevail over the will of the government and the people to secure peace and safety.
"Our efforts to deal with all acts of terror and violence would only be redoubled even as the security agencies continue to receive all the support they need from government to reverse this unfortunate and unacceptable trend that threatens the peace and stability of our nation," President Jonathan said.
The President commiserated with the Catholic Church, family and friends of the victims of the bombing, assuring them that government's resolve to deal with the threat of terrorism remains strong.
Also, President of the Senate, Senator David Mark has condemned the renewed attack against places of worship particularly today's on St. Rita's Catholic Church, describing it as disheartening, embarrassing and condemnable.
Mark in a statement by his media adviser, Kola Ologbodinyan, warned that it is never too late for the perpetrators of this dastard act to repent from their sinful acts against God.
"We don't deserve this. This is inhuman and alien to us. Let's put our differences aside and joins hands with governments and security operatives to halt these senseless killings. We have enough channels to iron out any differences. Give peace a chance", he said.
Senator Bukola Saraki has also condemned the attack saying he is "deeply touched by the devastating news of the suicide bomb attack… at a time Nigerians were basking in the euphoria of the peaceful Sallah celebration."
In a statement Sunday he said, "This attitude of no regards for lives and property in our society is horrendous, wicked and the perpetrators must not go unpunished. It is absolutely shocking, just when we taught we have come over these waves of incessant bomb attacks. It is time to be more proactive and not reactive in dealing with security of lives. The pressure to take laws into our hands may feel intense, losing loved ones can be devastating and we may feel the urge to take extreme reprisal measures, but doing so will only inflict more harm than good to our already polarized polity.
"As law abiding citizens, we must report any suspicious movements and activities within our community to assist the security agencies in combating this menace threatening our existence.
"As we strongly condemn this evil in all its entirety, we must never forget to pray for peace and demand for security of our lives by those saddled with the responsibility of carrying out such duty. Nigerians must continue to Unite and cooperate with the security forces to fish out the bad one's bent on instilling fears amongst us.
"On behalf of the good people of Kwara central and my family, I commiserate with the bereaved families and I wish the injured speedy recovery."