Advanced Dental Treatment in India - Travcure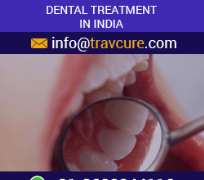 Dental Treatment
Dental Care and Oral health is an essential part of health care and any failure in the oral area needs to be taken care of very well Dental Treatments require the patient to seek appropriate advice and proceduresthat help to restore dental hygiene and personal well-being. Dental complications can be of various types.
Dental Treatmentsinvolves a number of medical procedures that furtherinclude artificially modifying the original teeth structure which are damaged due to various reasons. It may also mean surgery of the teeth and jaw bones to enhance their appearance, or to replace a damaged tooth with an implant or to remove a deceased tooth damaged by a cavity. Oral and maxillofacial surgical procedures are more specialized and modernized dental treatments.
Types of Dental Treatments
Usually Dental Treatments are of below types -
Endodontic Surgery involves -
Root canal typically called as Polypectomy
Apicoectomy is a procedure where a root-end resection is performed. Rarely a root canal alone will not be sufficient to reduce pain and the end of the tooth, known as apex, must be removed by entering through the gingival and surgically removing the diseased material from the area.
Dental Prosthetics include -
Crowns (caps) fitting is an artificial cover of the tooth made from a variety of biocompatible materials, including ceramic/porcelain, gold or a tin/aluminum mixture. The original tooth must be reshaped to accommodate these fixed coverings.
Veneers are also a type of artificial covers similar to crowns, except that they only cover the front (labial or buccal) portion of the tooth. Used only for aesthetic purposes.
Bridges are fixed prosthesis in which 2 or more caps are attached together, which replaces a lost tooth through a bridge. Normally used after an extraction procedure.
Implants is a medical procedure in which an artificial titanium implant is surgically inserted in the bone, allowed to restore, and after 4-6 months an artificial tooth is attached to the implant by cement or retained by a screw.
Dentures (false teeth) are a partial or complete set of teeth which either are attached to neighboring teeth by metal or plastic grasps or to the gingival or palatial surface by an adhesive.
Implant-supported prosthesis are a combination of dentures and artificial implants are placed into the bone using surgical procedure, allowed restore, and metal piece are fixed to the gingival surface, after which dentures are placed on the top and fixed into the area.
Orthodontic treatment involve -
Implants and implant-supported prosthesis are also an orthodontic treatment procedure as it includestreating of jaw bones.
Apiectomy is an orthodontic treatment procedure done as part of removing oforiginaljaw bone structure.
Extraction is a dental treatment in which anunhealthy, not working, or difficult tooth is removed, either by pulling or cutting it out. This treatmentis a commonly done procedure and can be easily done under local or general anesthesia. Many people remove their wisdom teeth before they become problematic.
Fiberotomy is a treatment to separate the fibers around a tooth, preventing it from worsening.
Preparation a Patient for Dental Treatments
It is necessary to have healthy oral habits as it helps to maintain oral care lifelong. An important feature of patient preparation before a dental treatment is proper education about the benefits and risks of dental procedures. The patient should clearly understand all the reasons for a particular treatment and what to expect during and after a procedure. The patient should also have the opportunity to understand the advantages and disadvantages of any procedure and make aninformed decision based on correct, authentic, and timely manner. Experiencing dental treatment can be upsetting to children and even too several adults but can be reduced when a patient understands the reasons for specific treatments.
Follow-up after a Dental Treatment
Good aftercare procedure builds confidence and trust between the patient and the doctorand helps in detecting medical problemsif any. In case of any complication early diagnosis can help in treating is as early as possible. Post-surgery recovery surgery should be take care of very seriously. Always follow post-operative measuredinstructed by your Dentist, to avoid any risk of infections or pain to the operated area.
Dental Treatments in India through Travcure Medical Tourism Consultant
The Indian Dental hospitals are well equipped healthcare facilities with the latest tools and modern infrastructure. Whereas the dental expertsin these hospitals take ultimate care of the patients to assure proper disinfection. The equipments used are hi-tech and of global standards. Travcure Medical Tourism Consultants are associated with Dentists who are renowned and practice at some of the world class hospitals in India in cities like Delhi, Mumbai, Goa, Nagpur and Chennai. Travcure Medical Tourism Consultants is your health partner to rely on who bring together the best Dentists, Implant Surgeons and hospitals for your dental issues and offer you the best treatments at affordable prices.
You can get more details in this concern by visiting: https://travcure.com/enquiry-form/ . You can send your queries at: [email protected]. You can also make a phone call to us at: +918600044116 / +919766217000