Pediatric Orthopedic Conditions and Affordable Treatments in India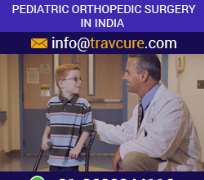 India is world-renowned medical tourism destination, offering excellent solutions for a variety of orthopedic conditions relating to children. It is providing affordable pediatric orthopedic treatments including surgeries for children from all around the world.
Some Common Pediatric Orthopedic Conditions
Kyphosis – Normal spine is shaped in a natural S-curve. Kyphosis refers to a spine abnormality in which spine curves outward at a severe angle in mid-back. Different types of kyphosis include congenital kyphosis, Scheuermann's kyphosis & kyphosis caused by osteoporosis. Bracing may be sufficient in some cases while surgery may be appropriate treatment in others.
Scoliosis – Though this condition is most often first diagnosed in children, treatment & monitoring may go on lifelong. Early intervention for scoliosis yields the best results. Common scoliosis signs & symptoms include difference in shoulder height when viewed from behind. Head may not be centered with rest of the body along with difference in position & hip height. Usually scoliosis does not cause any pain; common treatments include bracing while surgery may be required in severe cases.
Developmental Dysplasia of the Hip (DDH) – Infant's hip joint does not form properly in DDH due to which the 'ball' part of hip joint does not securely fit into 'socket' portion. DDH leads to problems in walking or end up in a hip which easily dislocates. DDH is also more common among girls & often runs in family. DDH treatments depend upon the age of child & severity of the case. Children may be required to wear special harnesses for few months so as to help hip joint properly reform. Surgery may also be required in some cases.
Neurofibromatosis – Refers to a group of 3 disorders which involve tumors of peripheral nerves. This condition is also associated with certain malignancies as well. Three types of neurofibromatosis are known as NF1, NF2 & Schwannomatosis. These tumors around the bones are usually identified during childhood or may sometimes go undiagnosed until 30 – 40 years of age. Diagnosis usually involves examination & genetic testing. Treatment for this condition varies depending upon the type & association with cancer if any. Orthopedic surgery can be a part of the overall treatment plan.
Growth Plate Fractures – This is the area of the bone where growth occurs in children & adolescents. Fracture is usually a break within growth plate areas. Fractured growth plate usually causes persistent pain & which may hinder children from applying pressure in the region. Falls followed by sports injuries & bike & car accidents account for a majority of growth plate fractures. X-rays & additional tests like ultrasound, MRI or CT scans are done to diagnose growth plate fractures. Commonly treated with splints or casts, some cases may even require surgery to ensure alignment for growth to continue. Early closure of growth plate is a serious complication & may result in deformity or restricted growth of the affected limb.
Limb Length Inequality – This condition occurs when one arm or leg is shorter than the other. It can be caused by trauma to growth plates while children are still growing, or from fractures, infection, genetic condition or syndrome. Although certain amount of limb length inequality is normal, but greater difference may require treatment. Arm length inequality does not affect function as much as leg length disturbing patient's quality of life. Diagnosed through X-rays & physical exams, both nonsurgical & surgical treatments are available as treatments based upon the amount of difference between limbs & future growing of child.
Pediatric Orthopedic Surgery in India
Explore & evaluate all aspects with your family doctor in case you suspect your child is suffering from any of these pediatric orthopedic related conditions. As India is a leading medical tourism destination providing affordable pediatric orthopedic treatments & surgeries for a variety of problems associated with children, seriously consider this option as an expert solution. Travcure medical tourism is one of the fastest growing companies in the subcontinent & which has tie-ups with top pediatric orthopedic surgeons & hospitals so as to give you high-quality low cost treatment packages.
Why Travcure Medical Tourism?
Travcure medical tourism associated pediatric orthopedic experts know how best to treat orthopedic conditions in growing children & adolescents. While providing quality care in a compassionate environment, Travcure has tie-ups with some of the best hospital facilities in the country providing pediatric orthopedic surgery.
For Best Expert Consultation and Best Treatment Option, reach Travcure Medical Tourism Consultant at
WEBSITE: travcure.com
EMAIL ID: [email protected]
PHONE no.: +91-8600044116