Partial Knee Replacement Surgery in India to Cure Minor Knee Defects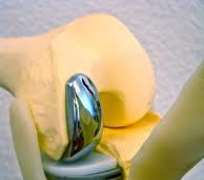 Small knee fractures and knee injuries including minor knee arthritis can be efficiently cured by partial knee replacement surgery in India. The orthopedic surgery hospitals of Delhi, Mumbai, Chennai, Bangalore and Nagpur are providing out patient partial knee replacement at a very low cost. Partial knee replacement, also know as unicompartmental knee arthroplasty,' it is a surgical procedure that might be considered for treating osteoarthritis of the knee joint. Traditionally, many patients have undergone total knee replacement to cure severe arthritis of the knee joint. In a total knee replacement, all cartilage is eliminated from the knee joint, and a metal or plastic implant is placed instead of the natural knee joint.
Most people use their knees for doing almost all their daily life chores. And if they have pain in their knees, this could create great frustration in them. Pain in the knees can occur due to a variety of reasons. Among these reasons knee arthritis is one of the most common reasons. The doctor can suggest the patient with a partial knee replacement surgery in cases where the patient is suffering with intolerable pain. Partial knee replacement surgery is also called as uni-compartmental knee surgery because it has quite different features from tradition total knee replacement surgery.
A partial knee replacement surgery is less invasive in comparison to a traditional total knee replacement surgery. Partial knee replacement surgery could be a good alternative for patients who suffer from knee arthritis and from knee injuries. This kind of knee replacement surgery is preferred instead of traditional total knee replacement surgery as it replaces only the diseased or worn out parts of the knee. The post operative hospital stay during partial knee replacement is also a very short period of one or two days in comparison to a total knee replacement surgery. Patients experience a shorter recovery time during a partial knee replacement surgery.
The long-term results of partial knee replacement are very positive when the minimally invasive partial knee replacement is performed for the right patients. Older studies have shown very good results of the partial knee replacement. If the minimally invasive procedure is performed on a patient suffering from widespread arthritis, then the results are much likely to be less than satisfactory. If your surgeon does not suggest a partial knee replacement, then you may face this situation. If this is the case, further conservative treatments or total knee replacement surgery can serve as the best alternatives.
About the company
Jointreplacementsurgeryhospitalindia.com is a perfect place where most experienced orthopedic surgeons are available. These surgeons provide partial knee replacement surgery in India with perfect expertise at a low cost budget. You can know more in this concern by visiting: www.jointreplacementsurgeryhospitalindia.com/procedures/partial-knee-replacement-surgery-india.html . You can send your queries to [email protected] . You can make a phone call to us at: 91-98604-32255.